Problem
The traditional financial system is failing.
Stressful requirements for opening International bank account.
High profits are kept by banks and investors and merchants are left with little.
High International fund/money transfers.
Long wait time for fund/money transfers.
High Interest Credit / Loan rates.
Restrictive worldwide fund/money transfers.
Solution
Victorum secure/inflation proof blockchain technology.
Simple requirements for opening International Multi-currency Bank Accounts.
Additional benefits for investors and merchants.
Fast, low cost International funds/money transfers.
Low interest rates for Credit / Loans.
Borderless fund/money transfers.
High savings interest and rewards for Victorum members.
Victorum Wallet
Wallet with Multi-currency capability allows anyone to deposit, store, swap and send funds worldwide with real time currency rates via email, SMS as well as QR code.
Victorum Payment System
Victorum Members and Merchant account holders can buy/sell, accept and control supported crypto and fiat currencies that have earning potential, rewards and bonus structure.
Victorum Exchange
Exchange supported functionalities such as Cashback, Rewards, Referral program, Market, Limit and Stop-Limit orders, Currency Conversion Option, IEO/ICO capability, Trading competitions, OTC, CFD and AI trading options.
Victorum Bank
Victorum blockchain- based bank enables everyone to open crypto and fiat currency savings and checking accounts. Accept, withdraw and transfer funds worldwide fast securely at a fraction of the cost.
Steps
1. Register On The Website.
2. Create Wallet Address.
3. Add Wallet Address to your Account.
4. Pass Identity Verification.
6. Go into Exchanges and Trade.
We are happy that you are joining our Global Community to help create wealth for all of our members.
Our extensive 3 tier program allows you to make commissions on 3 levels to maximize your earning potential and have others help you in your business.
VISA / MASTERCARD
Pay and Withdraw funds anywhere VISA / MasterCard is honored.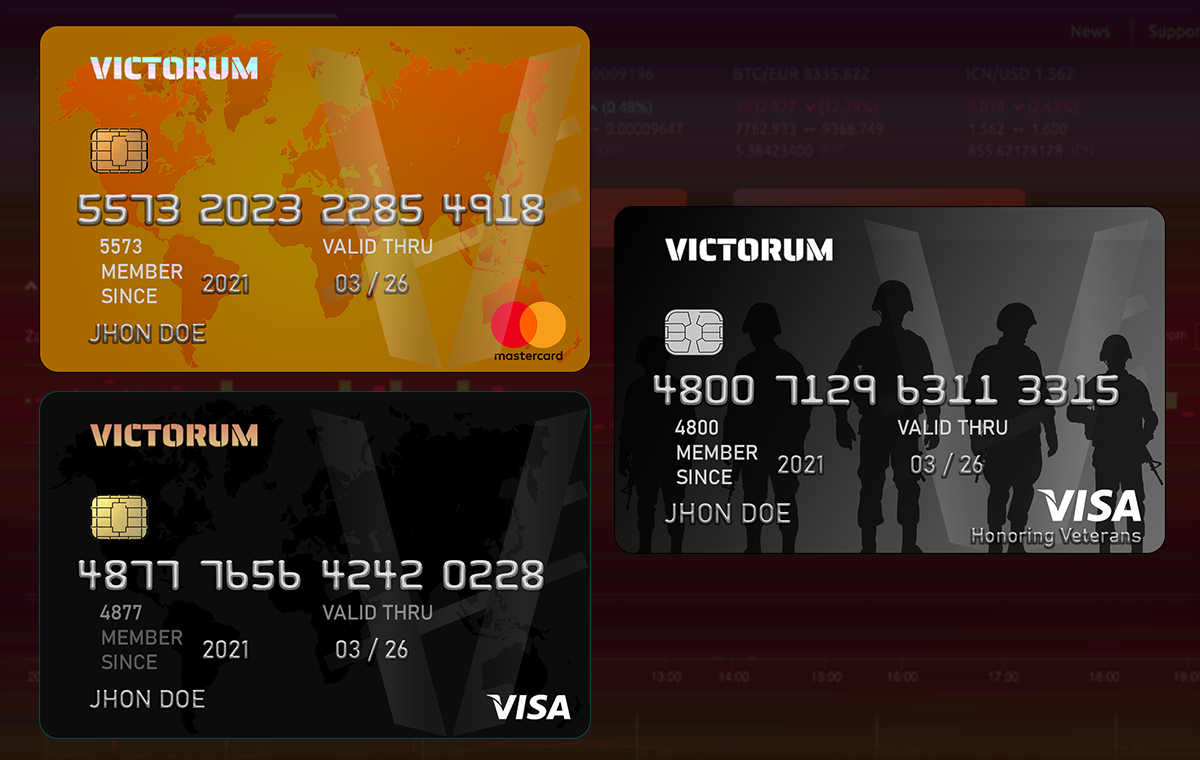 Connected to Victorum Banking and Payment System.
Token
The Victorum (VCC) will burn a total of 5 billion VCC. This amounts to 50% of the total supply of 10 billion VCC. The burning events will be made every quarter until 5B VCC are finally destroyed.
Token distribution based on 5B tokens.
ROADMAP
Victorum is developing a global data-driven financial platform for the world. Powered by blockchain and smart contracts.
2018
Q1
Blockchain based banking system conception
2019
Q2
Start of Team Development.
2020
Q2
Creation of landing page.
2020
Q4
Creation of White Paper and Two Pager.
2021
Q1
Introduction to Social Media.
2021
Q2
Victorum (VCC) deployment.
2022
Q2
Victorum Multicurrency Wallet.
2022
Q4
Victorum Payment System Integrations.
DOCUMENTS
Download the whitepaper and learn about Victorum Token, the unique Ecosystem, and the team/advisors.
FAQS
Below we've provided a bit of ICO, ICO Token, cryptocurrencies, and few others. If you have any other questions, please get in touch.
What is Binance Coin (BNB)?
Binance Coin is the cryptocurrency issued by Binance exchange and trades with the BNB symbol. Binance coin initially ran on the Ethereum blockchain with ERC 20 standard but has since become the native coin of the Binance chain. BNB is the cryptocurrency coin that powers the Binance ecosystem. As one of the world's most popular utility tokens, not only can you buy or sell BNB like any other cryptocurrency, but BNB comes with a wide range of applications and benefits.
What is Binance Smart Chain?
Binance Smart Chain (BSC) is best described as a blockchain that runs in parallel to the Binance Chain. Unlike Binance Chain, BSC boasts smart contract functionality and compatibility with the Ethereum Virtual Machine (EVM). The design goal here was to leave the high throughput of Binance Chain intact while introducing smart contracts into its ecosystem.
What is Victorum (VCC)?
Victorum (VCC) is a BEP 20 token and issued on the Binance Smart Chain. Victorum project enables its members to save, earn rewards, invest, withdraw and transfer funds, pay for goods and services anywhere in the world using one platform.
How to buy Binance Coin (BNB)?
1. Get a Binance coin wallet.
2. Locate your BNB address.
3. Sign up to Binance.( https://www.binance.com/ )
4. Buy BNB with another crypto or a credit card.
5. Withdraw your coins or leave them on Binance.
How add VCC to MetaMask?
1. Download MetaMask.
2. Register your account.
3. Go to MetaMask setting.
4. Click to Networks.
5. Click Add BSC Network.
6. Add Below Details and Click Save:
Network Name: BSC Mainnet.
New RPC URL: https://bsc-dataseed.binance.org/
Chain ID: 56
Symbol: BNB
Explorer URL: https://bscscan.com/
7. Click Account Assets.
8. Click Add Token.
9. Click Custom Token.
10.Add Token Contract Address: 0x5fc6179fcf814fcd4344ee03376ba717a95992b6
11.Click Save/add token.
12.Click below account name to copy your wallet address
How to buy Victorum (VCC) token?
1. Register On The Website.
2. Create Wallet Address.
3. Add Wallet Address to your Account.
4. Click buy Token.
5. Choose currency and add amount.
6. Make Payment.
7. Wait Payment Confirmation and receive VCC Token.
Can i buy Victorum token from exchanges?
Yes. You can buy Victorum token from official partner exchanges.
What is a minimum amount of Victorum (VCC) token for purchase?
The minimum amount of Victorum (VCC) purchase is 100 VCC.
What benefits do you offer for High Volume Investors?
Yes! We appreciate High Volume Investors with special bonus depending on the purchased amount of VCC tokens.
| | |
| --- | --- |
| Number of purchased VCC tokens | Bonus volume |
| 3,000 VCC - 5,999 VCC | 5% |
| 6,000 VCC - 11,999 VCC | 7% |
| 12,000 VCC - 23,999 VCC | 9% |
| 24,000 VCC - 47,999 VCC | 12% |
| 48,000 VCC - 99,999 VCC | 15% |
| 100,000 VCC and above | 20% |
What is accepted currencies for buying Victorum token?
You can pay for VCC tokens in Binance Coin (BNB), Tether (USDT) or USD
Contact Us
We are always open and we welcome and questions you have for our team. If you wish to get in touch, please fill out the form below. Someone from our team will get back to you shortly.
+44 20 3290 5859

+1 707 726 2992

71-75 Shelton Street, London
United Kingdom, WC2H 9JQ.